October 8, 2009
401-863-2476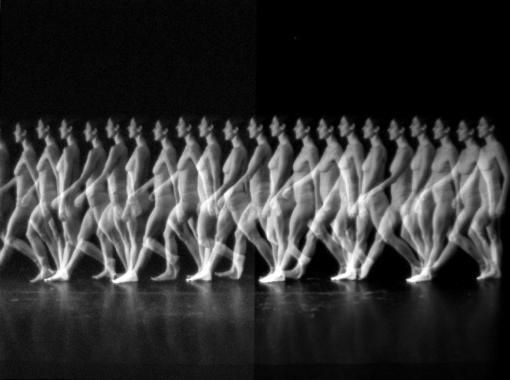 Composer and performer Joseph "Butch" Rovan opens a new installation at the Cogut Center for the Humanities, titled Let us imagine a straight line. This interactive work, exploring movement, motion, philosophy, and science through image, text, and sound, is open to the public from Friday, Oct. 16, through Friday, Nov. 6, 2009.
PROVIDENCE, R.I. [Brown University] — A new interactive work by Brown University composer and performer Joseph "Butch" Rovan is on display at the Cogut Center for the Humanities from Friday, Oct. 16, through Friday, Nov. 6, 2009. The installation, titled Let us imagine a straight line, featuring South African dancer Ami Shulman, explores movement, motion, philosophy, and science. An opening reception will be held Friday, Oct. 16, 2009, from 5 to 7 p.m. at the Cogut Center, 172 Meeting St. It is free and open to the public.
Let us imagine a straight line is inspired by two great minds of late 19th-century France — Etienne-Jules Marey and Henri Bergson — and their respective visions of motion and time. Marey's efforts to measure a beating heart and to capture birds in flight produced the technologies that led to the modern cinema. Bergson's reflections on matter and memory produced a philosophy that re-imagined the relation of mind to body. The installation invites participants to experience this scientific and humanistic legacy through a series of interactive pieces that explores the idea and the beauty of a single human body in motion.
Jumping
Analysis of movement: still image from film of dancer Ami Shulman jumping, July 2009. && Butch RovanThe concept for this work was first formed while Rovan, associate professor of music, was a Cogut Center Faculty Fellow in 2006. "What struck me about Marey's work is that he was looking for information and trying to understand movement from a research standpoint and in the process created these amazing images that look like art," Rovan said. "I've been fascinated by that pivot between science and art and where they merge."
Made up of five pieces and staged on four walls, Let us imagine a straight line combines image, text, and sound. It features a sculpture of moving light on an 8 x 12 foot custom-designed LED screen; a Marey-inspired handcrafted wood and brass EKG machine that measures and animates a visitor's pulse; a vintage telegraph typing out text from 19th-century scientific journals; and multiple video screens of Shulman walking, running, leaping, and dancing. The entire space is filled with music and the spoken and whispered words and ideas of Bergson and Marey.
Rovan not only created the video and music for the installation, but also redesigned the space's architecture, crafted the machines, wrote software, developed high-speed film techniques, and programmed electronics. He says he approached the artistic and technical challenge in the way he imagines Marey would have done, while Bergson served as an "equally compelling source of inspiration, especially for the way his philosophy frames an aesthetic experience of time."
"I've learned so much about movement during this process of working with Ami and developing these filming techniques," said Rovan. "To come up with a way to capture something that, in a sense, has an analytical quality and also a beauty ... balancing those has been an enlightening project, which will definitely affect the rest of my work. This has opened a window about human movement and how one can translate it into different media forms."
Rovan is a composer and performer on the faculty of the Department of Music at Brown, where he co-directs MEME (Multimedia and Electronic Music Experiments @ Brown) and the Ph.D. program in computer music and multimedia. Prior to joining, Brown he directed the Center for Experimental Music and Intermedia at the University of North Texas, and was a compositeur en recherche with the Real-Time Systems Team at the Institut de Recherche et Coordination Acoustique/Musique (IRCAM) in Paris. Rovan worked at Opcode Systems before leaving for Paris, serving as product manager for MAX, OMS and MIDI hardware. He has received prizes from the Bourges International Electroacoustic Music Competition and first prize in the Berlin Transmediale International Media Arts Festival, and his work has been performed throughout Asia, Europe, and the United States. He frequently performs his own work, either with custom-designed instruments or with augmented acoustic instruments.
The exhibition, the inaugural installation in the Cogut Center's new humanities laboratory, has been supported by a Richard B. Salomon Faculty Research Award, the Cogut Center for the Humanities, and the Creative Arts Council. The Lighting Science Group from Sacramento, Calif., provided the LED technology for the light sculpture at the entrance.
The Cogut Center for the Humanities is in Pembroke Hall, 172 Meeting St., Providence. Regular viewing hours are Monday through Friday from 1 to 5 p.m. in Room 003. For more information, call (401) 863-6070.
Editors: Brown University has a fiber link television studio available for domestic and international live and taped interviews, and maintains an ISDN line for radio interviews. For more information, call (401) 863-2476.